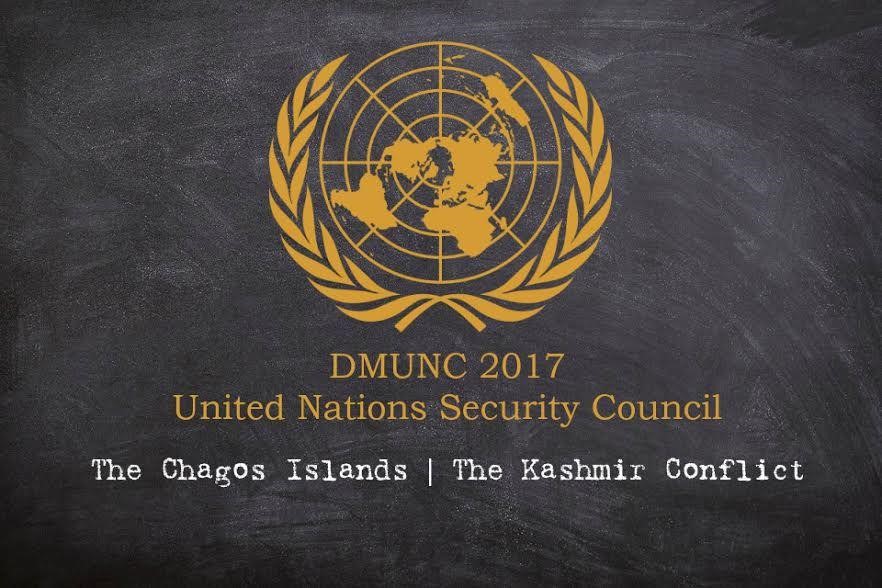 Head Chair: Basanti Mardemootoo
The topic guide can be accessed here.
Welcome to the United Nations Security Council meeting of 2017!
This specialized GA committee will be dealing with two critical problems that are on the agenda of the United Nations this year. With your help, our aim is to help mediate and pass successful resolutions addressing the issues at hand in order to avoid any further escalation of events. Here is a brief description of what we will be tackling:
The Chagos Islands
An issue of sovereignty, human rights and infringement of international law – the issues revolving around the Chagos Islands are not ones of small scale. After being legally detached from Mauritian sovereignty, the Chagos Islands have been in the joint possession of the United States and the United Kingdom for defense purposes. Despite initially claiming that the islands were inhabited, the British took part in forcibly expelling the 2000 Chagossians who had been living on the islands for centuries so that the United States could establish their military base. These same Chagossians, who have had their rights violated, have pleaded their case in front of the United Nations through the country of Mauritius and it is now up to us to review the evidence and come to a decision not only about the right of resettlement but also regarding sovereignty.
The Kashmir Conflict
70 years, three wars and 70,000 deaths later, India and Pakistan are still in conflict with each other over the area of Kashmir that finds itself on the border of the two countries. India and Pakistan hold different stances, both of which bring in past UN actions as decisive factors. India holds firm that UN Resolution 1172 which was passed back in 1948 accepts India's stand in the conflict whereas Pakistan is currently arguing that India has not acknowledged the resolutions passed here, at the Security Council and at the United Nations Commission present in the respective countries. A conflict which includes the presence of several militant groups as well as China and has been continuously escalating can no longer be ignored. This committee will be reviewing all of its past decisions on the conflict, assessing the current situation and reaching a solution on how to peacefully bring this seven decade old conflict to an end.
Please Note: Due to the sensitivity and complexity of these issues, this committee will be rigorous, and will have a high standard of expectations. Delegates willing to compete in UNSC are asked to be ready to tackle hard issues with grace and understanding. The Dias also asks that members of this committee are ready to deal with any events or crises that may occur during the conference.
Basanti can be contacted at dmunc.unsc@davismun.org