Welcome to the 16th annual session of Davis Model United Nations Conference (DMUNC)!
Our Conference
DMUNC is an annual conference hosted by the student-run organization, Model United Nations at UC Davis, on the UC Davis campus. Every May, more than 500 students from across California come to UC Davis to participate in a weekend of stimulating debate. Through simulation of UN bodies and other historical committees, we hope to spread international awareness, appreciation for diplomacy, and a dedication to improving the world. Our goal is to create an enriching educational experience for students to realize their personal potential to be strong leaders, confident public speakers, and concerned global citizens.
Who We Are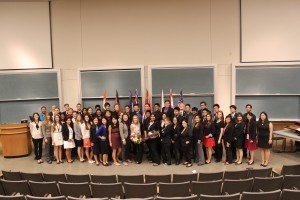 The DMUNC secretariat and staff comprises of more than 80 undergraduates from a diverse set of majors, backgrounds, interests, and experience. Despite our individual uniqueness, each member of the DMUNC staff shares a passion for international affairs, and a dedication to educate today's youth about pressing global issues. In a world dominated by news headlines of tragedy and leaders who consistently push for more war, we believe there is need for young new leaders who will seek peaceful diplomacy as an alternative method of reaching consensus and resolution regarding complex international issues.
Our History
With a reputation as one of California's outstanding Model United Nations conferences, DMUNC strives to continue its history of fourteen years of distinction as a novice learning conference for delegates. As we have always done, DMUNC promises an exceptional educational opportunity for delegates.
A variety of pages are being continuously updated, so stay tuned as we work tirelessly to bring the freshest information to you. Thank you!